Revolut Fintech StartUp – Spend Money Abroad Smart
by Fintechnews Switzerland
September 7, 2015
A very promising UK Fintech startups offers free money transfers, no fees on a Mastercard and even allows you to top up your account with Facebook or Whats App.
Appearing on the market later than the famous money transfer service Transferwise, Revolut also has a no-hidden-fee policy but works a little different.
This 3 points will convince you to use this App when you travel abroad.
1) No Hidden Fee, plus, No Service Fee
Customers are greedy, we always want more. Transferwise, without a doubt, is one of the best money transfer services, but Revolut captures more than just the no-hidden-fee foundation: the same money transfer service is available, however, what Revolut really offers is a service zero fee.
The Average Bank Fees are different but, given the same fee and charge, we can clearly save more from Revolut; and although the exchange rate of Transferwise seems to be a bit higher than Revolut's, together with its charge of GBP 4.98, it's obvious that Revolut gives you more.
Also, Revolut uses interbank exchange rate, which is updated every half second, to give its customers the best transfer deal, so the customers will save more from these transactions.
2) Instant Money Transfer
When customers want an "instant transfer", they want it to be done immediately; again, Revolut knows how to serve its customers. While Transferwise transaction takes 1-4 banking days to complete (based on the customers' payment method), Revolut only needs a few hours to transfer from one Revolut users to another user, and 1-2 days to a non-user.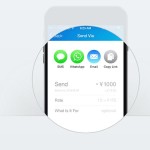 But that is not the best part of this money cloud of your own, Revolut did a genius job: combining "instant message" and "instant transfer". If you wish for a fast transaction, let Whatsapp, SMS and even Facebook Messenger do the job for you. All you have to do is type in the recipient's name, amount of money and send! Instant transfer comes with instant message indeed.
3) A Mastercard Without Fee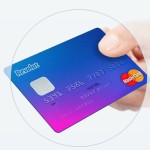 Being charged of a ridiculous and unfair amount of exchange fees when withdrawing money abroad is annoying; and Revolut solves this problem by issuing its own card, which works like a Mastercard, can be used anywhere, but without debit fee. In other words, no fee is charged when you withdraw your money from an ATM in another country. Moreover, the card automatically converts into the local
currency at your whereabouts and at the perfect interbank rate.
Due to current high demand of the card, ordering one now would take 10 business days to send the card to you, unless you are in the UK, in which case it may only take 2.
What's the catch when all of these convenient services are given for zero? Revolut does charge after a 12 month period, the fee is promised to be fair in respect to the services rendered.
The choice is yours to make, if you are looking for an option when travelling or working abroad, Revolut may have the tools you need to transfer money and have peace of mind in the process, all while avoiding hidden fees and service charges that are associated with banking institutions.
Let's keep track if Revolut will be successfull and will be able to get a steady revenue stream. They recently raised  another amount of 2.3 Mio USD from Balderton Capital and partnered with Optimal Payment Solution. The Business Modell looks a little like German based Number26.